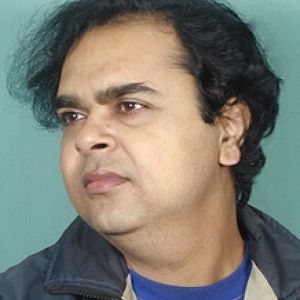 Amar Singha
(India)
About
Events
Exhibitions
Education
I am an artist from India, has been working in the field of painting since 1998. I was born in 1978 and obtained my degree of fine art, from a well known institute of Calcutta, named Academy Of Creative Art. After obtained my degree, I decided to work as a self employed artist. At past, I was working as a freelance artist in several publication companies and add agencies. But I didn't tolerate this office type bounden duty and resign from those services. It has broken my financial stability, but still now, I am enjoying painting in full time with free mind. I mainly cubist painter, and oil is my best medium. I am experimenting with the cubist form in several ways. My ambition is to find out a new form which would be related with oriental style, and folk art of India. It was comes to my mind when I read a book about Indian painting. In that book, author regretted to say that unfortunately, nobody tried to find out the interrelation between western and Indian art and its concepts. He said it about that period of Indian art culture, before the year 1947. I decided to create a new form by mixing those concepts and still now, it is running. I mainly inspired by nature and my surrounding world. But I don't depict which I see, rather I depict which I feel and try to express my thought with color and composition. I awarded from Light space time art gallery at the event of their annual landscape art competition of 2013. It was the first award which brought me in the spotlight of international art world. Painting is my first love, but I also try to work in several creative platforms. I have written two books. Please visit my website to read.
Spacial recognition award for the painting,-"An Evening In lonely Village" Honorable mention award for the painting "Returning 1" Featured artist of Art Promotivate, Artist-info Gallery (London)
Annual exhibition of LST gallery of Florida. (2013 ) Annual exhibition of Parivesh Kala Sansthan in India. (2014) Online exhibition with Touchtalent ( two times ) (2014)
BA., Diploma in fine art from Academy of Creative Art, Calcutta. Special study on Indian miniature.
There isn't any art added, please add them
User hasn't any art added
There isn't any art added, please add them
User hasn't any art added
There isn't any art added, please add them
User hasn't any art added