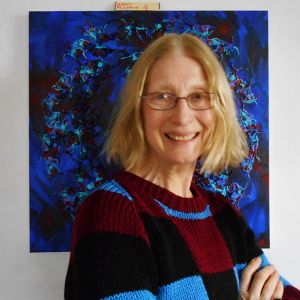 Susan Banks
(United Kingdom)
About
Events
Exhibitions
Education
Susan Banks M.A., M.Phil. studied painting at Croydon College of Art and cultural theory at the University of Hull. The most recent bodies of critically engaged work have been exhibited as "Divertimenta" and "Elusion and Revision".
Most Recent Group Show 2014 Stuft All Over Again, Red Gallery of Contemporary Art, Hull
Solo Shows 2012 Elusion and Revision, Abbey Walk Gallery, Grimsby 2008 Divertimenta, Red Gallery, Hull. 2007 Divertimenta, Persistence Works, Sheffield. 2005 Divertimenta, 20-21 Visual Arts Centre, Scunthorpe. 2005 Solo Show, Blackfriars Arts Centre, Boston. 2002 Divertimenta, Oxmarket Centre for the Arts, Chichester. 2002 Divertimenta, Peterborough Art House, Peterborough. 2002 Divertimenta, The Ropewalk, Barton on Humber.
M. Phil. Painting and Research, University of Lincolnshire and Humberside. M.A. Art Theory and Practice
There isn't any art added, please add them
User hasn't any art added
There isn't any art added, please add them
User hasn't any art added
There isn't any art added, please add them
User hasn't any art added